About Healthful Pets
Healthful Pets, which launched in August 2015, has been set up by Kay Johnson and Sue Wallwork - both animal owners and qualified Naturopathic Nutritional Therapists, with a special interest in a more natural approach to supporting the health of our pets. Healthful Pets is also supported by a fully qualified, experienced and practising Veterinary Surgeon and Homeopath.
So why Healthful Pets? We are fully aware in the human world, that preventing ill health and achieving optimal health requires a pro-active approach - nutritious wholesome food, clean safe water and avoidance of harmful chemicals and toxins. We believe the same approach applies to our pets. As the incidences of animal diseases including allergies and cancers increases, a more holistic approach to pet care has become increasingly important, if our faithful and loyal pet companions are to live healthy and happy lives - after all they are family, enhancing the quality of our own lives and providing us with companionship, unconditional love, and of course fun and entertainment.

Nutrition is central to holistic animal care; influencing your pet's emotional as well as physical wellness. Poor nutrition can lead to health imbalances, toxicity and disease, whereas good nutrition will promote a strong immune system, reproduction and growth.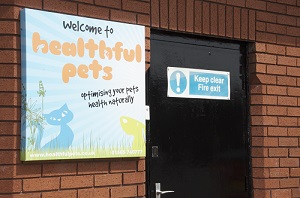 However that is only part of the story; we also need to think what chemicals our pets are exposed to on a daily basis. Toxins and chemicals can be ingested and absorbed from food and treats, unfiltered tap water and the everyday chemicals used in our homes and gardens, like household cleaning products, shampoos and creams, as well as the toys we provide for their entertainment – in summary the physical and mental wellbeing of our pets is affected by what we put ON them, IN them and AROUND them! What we give our pets today – affects them tomorrow!
With this in mind, our aims at Healthful Pets has been to carefully select a range of natural, high quality and safer pet care foods, treats, grooming products and other accessories and supplements, without harmful chemicals - products not always available on the 'High Street' or for that matter, in the UK, so that our faithful friends can live long, happy and healthy lives.
Whilst it is not always possible to obtain organic, we have chosen products as close to nature as possible. We have also included a range of supplements, since it has been widely demonstrated that these may be beneficial, based on your pet's individual needs, in a variety of conditions.
Our passion is to supply quality natural products that will enhance not harm your pets' health. Supporting you to 'optimise your pets' health naturally' is our priority.
You can also stay informed by following us on Facebook, Twitter, Instagram and Pinterest where we will keep you up-to-date with information, news and offers. Our website also contains useful information in the form of Healthful Guides, Newsletters and a regular blog.